Originating from Germany, Riesling (also called Rheinriesling or Johannisberger) is a highly acidic and aromatic grape—which makes for fantastic dry, sweet, and sparkling wines. Notable aromas are lemon, lime, petrol, and jasmine. The strong acidity level makes this one of the best white wines to age.
Fun fact: The oldest drinkable wine in the world is a Riesling from 1727! Interested in tasting it? It's all yours for a mere $200,000. No biggie. 
Different Styles of Riesling
While there is no other grape in the world exactly like it, Riesling itself can wear completely different styles. Where it is grown has a profound effect on the characters that it will display. Without a doubt, the winemaker's choices also have a great impact on it's flavor profile.
Dry Rieslings
Many people automatically think of Riesling as a sweet wine. This is mainly because back in the 70's, 80's and 90's, Riesling was popularly known as a reasonably priced wine that was on the sweeter side. While there are still plenty of sweet Rieslings being produced today, dry Rieslings have really picked up fame. Varieties from the Eden and Clare Valleys in Australia are brilliant examples of this.
With juicy, citrus flavors, dry Rieslings are pleasantly dry and refreshing, making them excellent wines to enjoy by the pool on hot summer days. Coincidentally, many dry Australian Rieslings have a scent of inflated pool toys that I just love!
Sweet Rieslings
Sweeter style Rieslings boast aromas of ripe fruits such as pears, apricots, and nectarines, while still presenting excellent freshness. Notes of petrol can usually be detected as well, more or less depending on the specific bottle. Rieslings that are semi-sweet are perfect for pairing with rich, fruity desserts such as passion fruit cheesecake. If you're going for the very sweet Rieslings, pair with very contrasting, salty food like Roquefort and Cambozola cheese.
There are several levels of sweetness that are usually labeled for German Rieslings:
Trocken – Dry style
Kabinett – Off-dry to semi-sweet style
Spatlese – Late harvest, sweet to very sweet style
Eiswein – Very sweet style*
Note: Eiswein's sweetness is due to a unique wine-making process using frozen grapes; it can also be made using some other varieties
Late Harvest and Ice Wine (Eiswein) Riesling
Late harvested Riesling that is made into dessert wines is often affected by Botrytis. Botrytis cinerea is a fungus that causes the grapes to decay and shrivel, concentrating the sugar levels. This is also known as 'Noble Rot'. While the grapes look very unappealing, Botrytis grapes make some of the best dessert wines in the world.
The grapes get very ripe, causing the acidity levels to go down and the sugar levels to go up. This is why Riesling is perfect for this winemaking technique; the natural high acidity that really holds up, no matter how ripe the grapes get.
Ice wine is my personal favorite style of Riesling. Although, I can only drink a little bit at a time due to it's incredible sweetness! While there are other grapes that can be used to produce Ice Wine, there is not one made from 100% Riesling grapes.
The process of making Ice Wine is a fascinating one in itself. The grapes are frozen on the vine, usually when the outdoor temperature reaches -6 to -7 degrees Celsius. Due to the freezing temperature requirement, it's not surprising that Canada is the world's top producer.
The grapes are then picked and dumped straight into the grape presser. Since the grapes are frozen solid, only the sweetest juice is pressed out, while the water stays frozen. Only 10-20% of the total grape's liquid is used to make this wine, plus the slow fermentation process explains the high price of a small bottle So worth it, though.
Which Wines are Similar to Riesling?
Gewurtztraminer
Gewurtztraminer wines are typically full bodied, and show ripe and spicy characteristics. While they have a steady alcohol level, the acidity is relatively low. Gewurtztraminer has a wide variety of flavors and aromas, from fruits such as lychee, grapefruit, and peach to notes such as roses, white pepper, orange peel, and honeysuckle.
Similar to Riesling, Gewurtztraminer can be made in both dry and sweet styles. Riesling and Gewurtztraminer both do an excellent job of enticing the drinker with their perfume-like aromas.
Chenin Blanc
Chenin Blanc is not a wine that is likely to appear on every wine list that you'll come across, but definitely worth giving a try if you love Riesling. Hailing from the Loire Valley of France, it's used to make many different types of wines, from sparkling to dessert. This makes it adaptable to many tastes.
It is also popular in South Africa, although the wines tend to be made in a more spice-driven style with higher alcohol content. Primary flavors are dried tea, chamomile, pear, quince, honey, and golden apples. Just like Riesling, it is a great choice to pair with spicy foods and curries.
Pinot Blanc
Pinot Blanc is a fantastic little gem that is well known in the Alsace region of France, among other European countries. Although it produces a white wine, the grapes actually have a beautiful pink hue. Peach, pear, lemon zest, and crushed rocks can all be found in the nose of this wine.
It tastes dry with a bright and lively acidity. If you're a fan of dry Rieslings, this wine is a must try. It pairs excellently with flaky fish and light meats such as chicken. 
Is Riesling Similar to Sauvignon Blanc?
While Sauvignon Blanc and Riesling share the similarity of high acidity and popularity for Noble Rot dessert wines, they branch off in separate directions when it comes to the flavor profiles.
Sauvignon has wonderful citrus focused notes, while Riesling is just not as intense on the nose. This does not mean that Riesling drinkers shouldn't give Sauvignon Blanc a go! Not only is Sauvignon Blanc a highly enjoyable wine (especially in the summertime), but has very diverse styles as well.
I would highly recommend trying old world style Sauvignon Blanc first. Sancerre is a great start. Sancerre is more similar to Riesling in the sense that it is not so focused on citrus notes, but also mineral notes such as chalk, and ripe passion fruit. You might as well try some Chèvre rolled in ash from the Loire Valley with your Sancerre to keep the theme of the region. You will not regret it!
New World Sauvignon Blanc such as ones made in Marlborough, New Zealand are definitely not coy with their personalities. Fresh cut grass, gooseberry leaf, and fresh lemon notes are pronounced boldly, with sharp acidity that will leave your mouth watering.
Some Rieslings I Reccommend…
Trimbach Riesling, Alsace, France
Dr. Loosen Erdener Treppchen Riesling, Mosel, Germany
Jim Barry Watervale Riesling, Clare Valley, Australia
Inniskillin Riesling Ice Wine, Niagara Peninsula, Canada
The bottom line is that Riesling is a pretty special grape, made into even more special wines. We're just fortunate to be able to try all that it has to offer.
Cheers!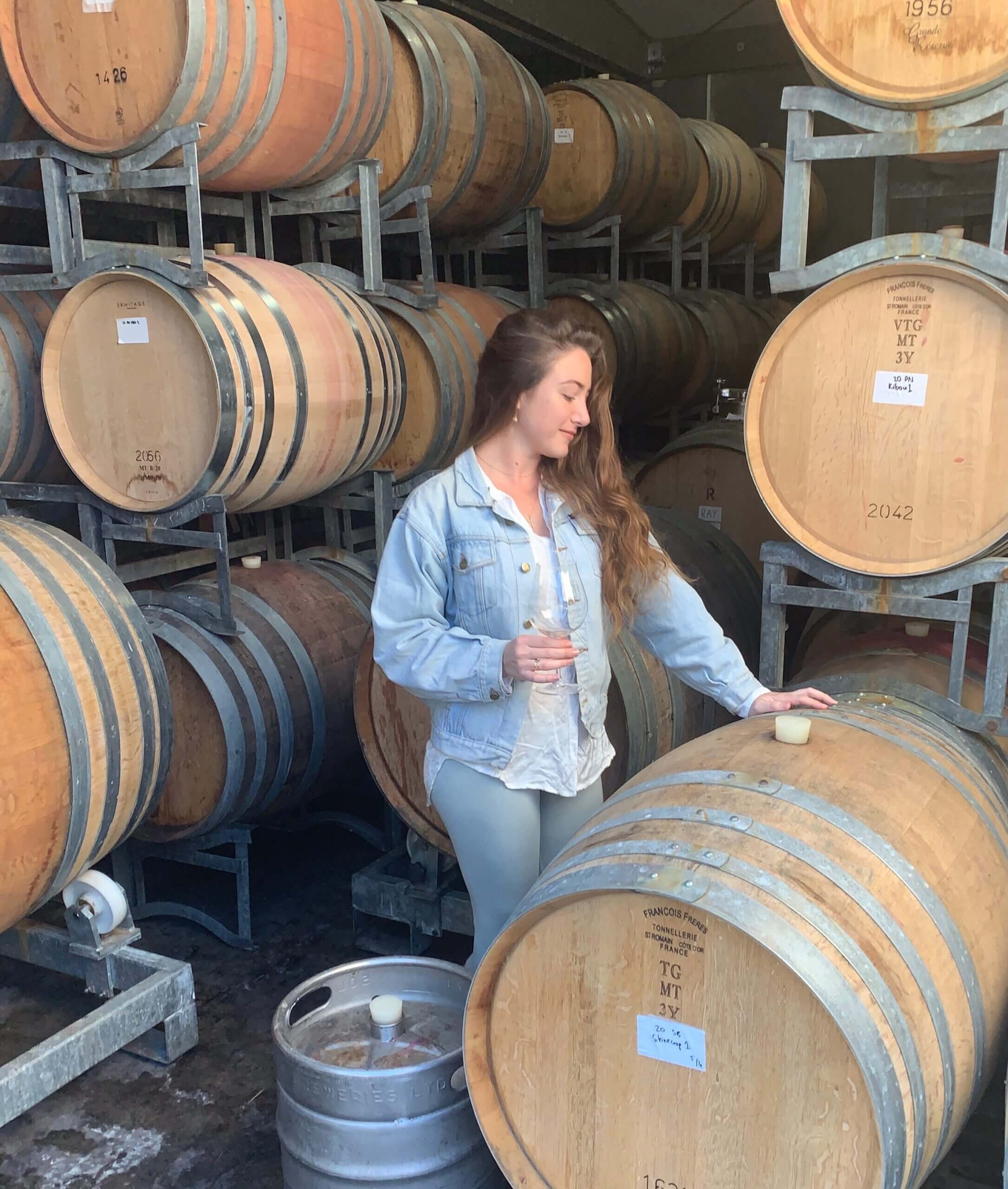 Katarina Jelks is a professionally trained sommelier from Hawaii. She received her Wine & Management Diploma from Le Cordon Bleu in Paris. Her experience working across the wine industry, in locations all around the world (France, Australia, New Zealand, the US & more), has resulted in a global perspective. She loves sharing her passion with others and helping them to chase their thirst for interesting wine and great food.