Many times, wine is described as being dry. This word refers to the sweetness, or in this case, lack of sweetness in the wine. Pretty simple, right? Well it doesn't stop there.
Off-dry, Sweet, Brut, Extra Brut, Sec, and Demi-Sec are just some of the other terms used to describe sugar levels in our bottles of still and sparkling wines. Not to worry, we've defined this language of wine for you, so life can be a little sweeter.
How Dry Wines are Produced
When a wine is in the process of fermentation, the active yeast consume the residual sugar and convert it into alcohol. If the winemaker is making a dry wine, they will allow the fermentation to finish completely, leaving no residual sugar.
Ranges of Sweetness in Wines
Sweetness Range of Red and White Still Wines
| | |
| --- | --- |
| Sweetness Name | Amount of Sweetness |
| Dry | Less than 1% |
| Off-Dry or Semi-Sweet | More than 3% but less than 5% |
| Sweet | 5%-6% |
| Dessert Wines | 7%-20% |
1% sweetness is equivalent to 10 g/L (grams per litre) of residual sugar
Sweetness Range of Champagnes and Sparkling Wines
Sweetness Name
Amount of Sweetness
(Measured in g/L of RS)
Brut Nature
0-3 g/L
Extra Brut
0-6 g/L
Brut
0-12 g/L
Extra Dry
12-17 g/L
Dry
17-32 g/L
Demi-Sec
32-50 g/L
Doux
50 g/L or more
RS = Residual Sugar
Sweetness Range of German Wines
German wines have categories of their own when it comes to sweetness. Look out for these tongue-twisting names when buying your next bottle of wine from Germany.
Sweetness Name
Amount of Sweetness
(Measured in g/L of RS)
Trocken
9 g/L or less
Halbtrocken &
Classic
Up to 12 g/L for Halbtrocken
Up to 15 g/L for 'Classic'
Liebliche
Up to 45 g/L
süß or edelsüß
More than 45 g/L
RS = Residual Sugar
Trocken is sometimes called 'Selection' for the hand harvested wines, specifically from Rheingau
Feinherb is also an unofficial term that can be used to describe semi-sweet wines that are similar to Halbtrocken
Common Types of Sweet Wines
If the small bottle of golden, syrupy liquid doesn't give it away, there are some wines that will always fulfill your craving for a sweet wine. Also known as 'Dessert Wines', there are several special methods of production that winemakers will utilize to craft such a sweet wine…
Botrytis or 'Noble Rot' wines are dessert wines that are made from grapes infected with the Botrytis Cinerea fungus. The fungus causes the grapes to shrivel and decay, concentrating the sugar levels. Before you say, "Ew"…these are some of the best dessert wines around! These gems usually have more pronounced flavors of honey, candied orange peel, and caramel.
Late Harvest wines are made with grapes that are left longer on the vine to ripen. This causes the sugar levels to rise, while the acidity decreases. This is why many times, wineries will make late harvest wines with grapes that have naturally high acidity, such as Riesling or Sauvignon Blanc.
Ice Wine (or in Germany, known as Eiswein) is a scrumptious dessert wine made from grapes that are picked when they are frozen on the vine.The grapes are then pressed, with the water staying frozen and only the sweetest, most concentrated juices coming out. These dessert wines tend to have a fresh tartness to them with flavors such as dried apricot, tropical fruit, and peach.
Common Types of Off-Dry Wines
For those times when you're feeling something just a tad sweeter, but not quite into full blown dessert mode…
Moscato d'Asti is a popular semi-sweet, semi-sparkling wine from Italy. This easy-drinking, effervescent wine is perfect as an aperitif or to pair with a dessert. The soft, gentle bubbles add a refreshing touch of texture, and common notes are mandarin orange, honeysuckle, lemon and pear.
German varieties such as Riesling and Gewürztraminer's modern wines are often made in an off-dry style. Not only in Germany, but these wines can be found all over the globe! With Riesling having naturally high acidity, and Gewürztraminer having high alcohol content, a touch of sweetness is a perfect way to balance these aspects out.
Lambrusco is another hit from Italy that appeals to wine lovers of every sort. Being a red, bubbly, semi-sweet wine makes it's originality speak for itself. It's the perfect fizzy wine to sip all year long.
Common Dry Wines
Serious wine for serious times…or not. A crisp, dry wine is always great for any occasion.
Rosés (especially from Provence) are some of the driest wines out there. Although known for light, fruity characteristics, the residual sugar in a typical rosé from Cotes de Provence is only allowed to be 4g/L, or less. This pleasantly clean, pink wine is perfect for enjoying on a hot day by the water.
Sauvignon Blanc is known for it's refreshing, bright acidity and classic dryness. It's very food-friendly, for both consuming and cooking with. New world Sauvignon Blancs boast very fragrant aromas of citrus and fresh cut grass.
Cabernet Sauvignon is famous for being dry with it's generous, full-bodied tannins and bouquet of dark fruit and spices. Often a wonderful accompaniment for main course dinners such as grilled steak, or hard aged cheeses such as Gouda and Cheddar. There's no room for sweetness in this wine's bottle.
Tasting Wines
When tasting in a cellar, wineries will often serve you their driest wines first, working their way to the sweeter ones. This is because the sugar in the sweet wines saturate the palate more, making it harder to taste the dry wines later.
If you are one to skip straight to dessert, a good way to clean the palate is by eating some white bread or plain crackers between wines.
No matter the style, dry, semi-dry, or sweet…it's well worth it to give them all a swirl.
Cheers!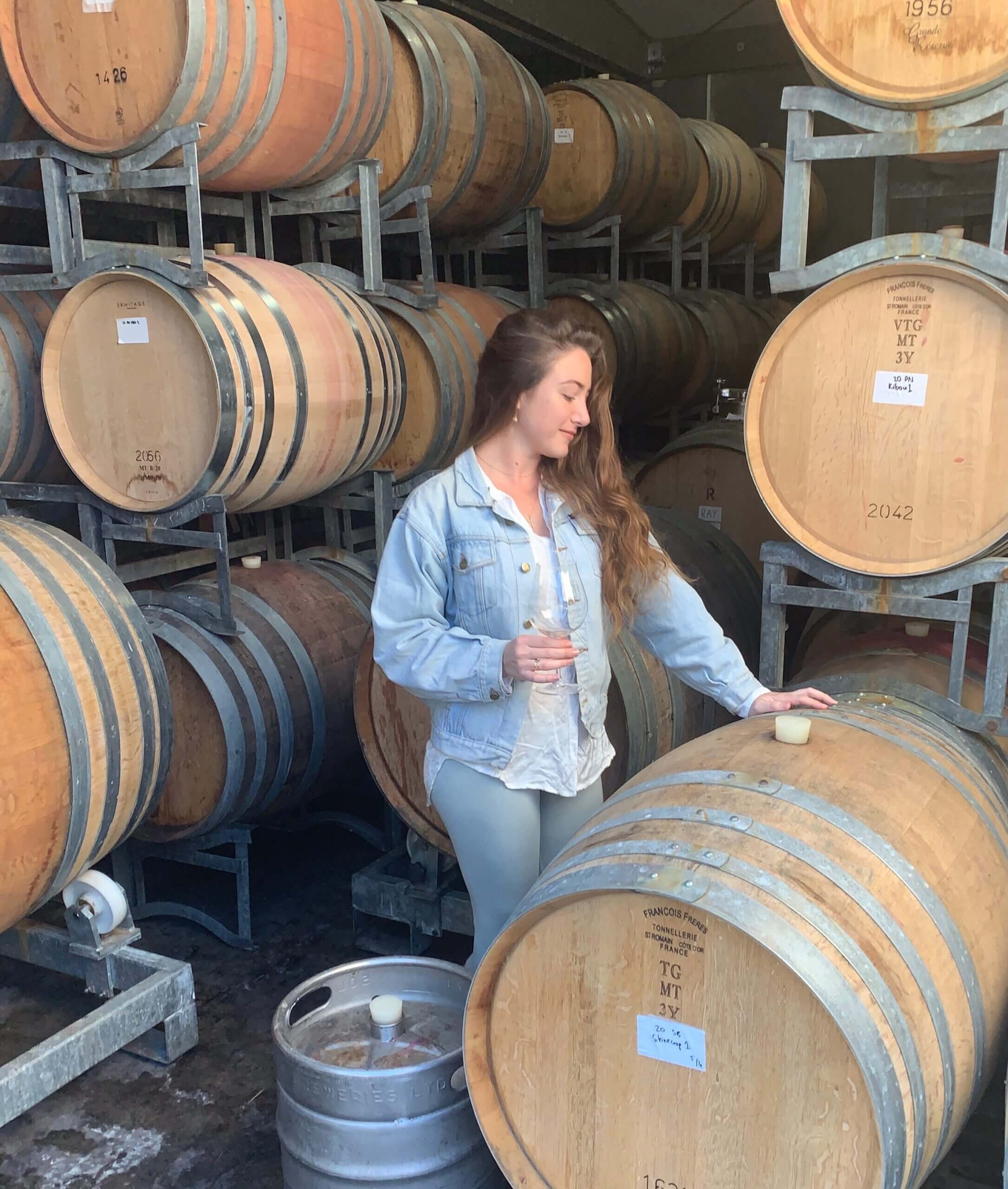 Katarina Jelks is a professionally trained sommelier from Hawaii. She received her Wine & Management Diploma from Le Cordon Bleu in Paris. Her experience working across the wine industry, in locations all around the world (France, Australia, New Zealand, the US & more), has resulted in a global perspective. She loves sharing her passion with others and helping them to chase their thirst for interesting wine and great food.