Bursting with notes of red and black fruits and carrying round, smooth tannins, Merlot is an exquisite wine to say the least. It has the ability to appeal to almost all red wine drinkers (a safe choice to bring to a party).
As for white wine drinkers, Merlot is a great choice if you're looking to try a red wine that won't dry the life out of your mouth (sorry, Tannat).
While there are no other wines that are exactly like Merlot, there are similar ones that every Merlot lover should definitely give a whirl…or in this case, a swirl.
The Profile of Merlot
Before we discuss wines that are similar to Merlot, let's take a closer look at the glorious grape itself. Merlot grapes have fairly thin skin, which contributes to its low tannic structure.
This wine is associated with plush, velvety texture and simple fruit forward flavors. This combination makes it so easy to drink.
The vines thrive in cool, well drained soils such as sand, clay, and limestone. A great example of this are the hills of St. Emilion in the Bordeaux region. St. Emilion is one of the best Merlot growing appellations in the world, due to its predominantly clay and limestone soils.
Is Merlot Sweet or Dry?
Typically, Merlot is made as a dry style red wine (although it is popular to make rose wine from Merlot grapes as well).
A lot of wineries also use Merlot in popular red blends such as the Bordeaux Blend (Merlot, Cabernet Sauvignon, Cabernet Franc, Petit Verdot, Carmenere and Malbec), or Super Tuscans (Sangiovese, Cabernet Sauvignon, Merlot, Syrah, and Cabernet Franc).
What Does Merlot Pair Well With?
Some wines are just too full-bodied to pair with certain foods. One such negative pairing example is Syrah and poultry. It is also possible for wines to be overpowered by some foods, like Pinot Noir and grilled red meat.
Merlot is really the middle man when it comes to body and acidity, which is a great trait to have when being paired with food.
Merlot can pair with almost anything, from vegetables to various meats. To get an idea of just how many different foods can be paired with Merlot, Bigoven.com has created a great list of some top pairings.

List of Wines Similar to Merlot
Montepulciano
This wine shares many similarities with our beloved Merlot. Montepulciano and Merlot both have vibrant fruit-forward flavors such as plum and cherry when young, and develop more rustic spice as they age.
They both have medium bodied, soft tannins that are easily drinkable. They're also both amazing with tomato sauce dishes, so try a Montepulciano on your next pizza night…delizioso!
Red Zinfandel
Red Zinfandel's tannins are slightly more intense, and it has a higher alcohol level than your common Merlot, but oh-so-tasty. Don't confuse this with white Zinfandel. Red Zinfandel has amazing flavors of candied cranberries and cocoa.
The texture of Zinfandel is simply divine; a blanket of smooth and sultry tannins that coat the mouth richly, leaving a mouth watering finish from the high acidity. I highly recommend the Seghesio Sonoma Zinfandel, although all of their Zin's are delightful.
Barbera
Barbera is another native Italian grape that is comparable to Merlot. Don't let that deep, dark color fool you. Barbera is known for its low tannins and high acidity, equaling an exceptionally juicy wine that is not as intimidating as it appears!
Like Merlot, it is relatively easy to find a great priced Barbera as well. A perfect companion for your next get together with friends.
Sangiovese
Sangiovese is a medium bodied wine, found all throughout Italy. It has lovely notes of ripe, red fruits and more subtle notes of vine-ripened tomato.
In recent years, Sangiovese is starting to become an international star. Sangiovese wines are now being produced in several countries. Australia and Chile are two new contenders on the list.
Although outstanding on their own, Merlot and Sangiovese are frequent blending grapes because of their smooth-textured tannins and pleasant flavors. Fighting Gully Road in Victoria (Australia) is producing a new world Sangiovese that is definitely worth trying. Read their interesting Sangiovese story here.
Cabernet Franc
Cabernet Franc is one of the two parents of the Merlot grape. While having a very unique flavor component of green bell pepper, it also showcases a nice balance of red fruits and savory herbs.
Did You Know: It took nearly a decade longer for researchers to find the other parent of Merlot, which is Magdeleine Noir des Charentes.
The tannins of Cabernet Franc are more reserved and crunchy, not drying out the palate immensely. It is definitely enchanting to say the least…and will leave you wanting more.
What About Pinot Noir – is it Similar to Merlot?
It's true that Pinot Noir is also a light, fruit driven, easy drinking wine. At first sip, you might think it is similar. However, it is thinner bodied than Merlot.
Pinot Noir tannins are smooth in the sense that they are silky and delicate like a ribbon. Contrast to this, Merlot tannins are well rounded and feel plush on the palate, carrying a little more weight than Pinot Noir.
With that being said, there are Pinot Noirs out there that are definitely comparable to some Merlot wines, depending on where they both come from and winemaking techniques used. Wine is interesting in the aspect that you can have the same grape variety from different terroirs and they will taste very different.
New world and old world Pinot Noir styles are a great example of this. Central Otago Pinot Noirs (especially the ones hailing from Bannockburn, Cromwell, Bendigo, and Alexandra) are famous for being full bodied, rich, and full of ripe, jammy fruits. These Pinots are certainly more similar to Merlot than the classic Burgundian style.
Burgundy Pinot Noirs are renowned for reflecting the land from which is was cultivated. Apart from fresh cherry, earthy and floral aromas such as dried rose petals, mushroom, and wet soil are common in these wines. The texture of the tannins are much more fluid and sleek than those of the Otago Pinots. Burgundy Pinot Noirs cannot compare very well to Merlot, as they have such an original direction of their own.
Common Wines not Similar to Merlot
Cabernet Sauvignon
Cabernet Sauvignon, although an excellent grape to blend with Merlot, does not have very similar characteristics to Merlot when it comes to texture. Both wines share similar flavors of dark fruits such as plum and black cherry, with Cabernet differing slightly with other aromas too, such as tobacco and graphite.
Pure Cabernet Sauvignons are known for their high tannin content and fashioning big, pronounced wines that are great for pairing with flavor packed dishes.
Syrah or Shiraz
Syrah or Shiraz wines have even bigger and bolder tannins than Cabernet Sauvignon! Being one of the heaviest bodied wines out there, the flavors and aromas go right along with it.
Smoked meat, fresh ground black pepper, and ripe black fruit are just some of the intense notes that you can find in this wine. Merlot is definitely more approachable than Syrah in pretty much…every way.
Malbec
Malbec is the most planted grape variety in Argentina. Kind of like the Argentine Tango, this wine is known for being spicy, deep, and harmonious. Malbec is considered "full bodied". It has generous notes of dark fruits, coffee, molasses, and leather, just to name a few. It's definitely not a wine that I would recommend to Merlot fans, as it definitely packs a punch.
The Conclusion…
Regardless of whether you are a die-hard Merlot lover, or you're just learning about it… the wonderful world of red wines as we know it would definitely not be the same without it.
Cheers!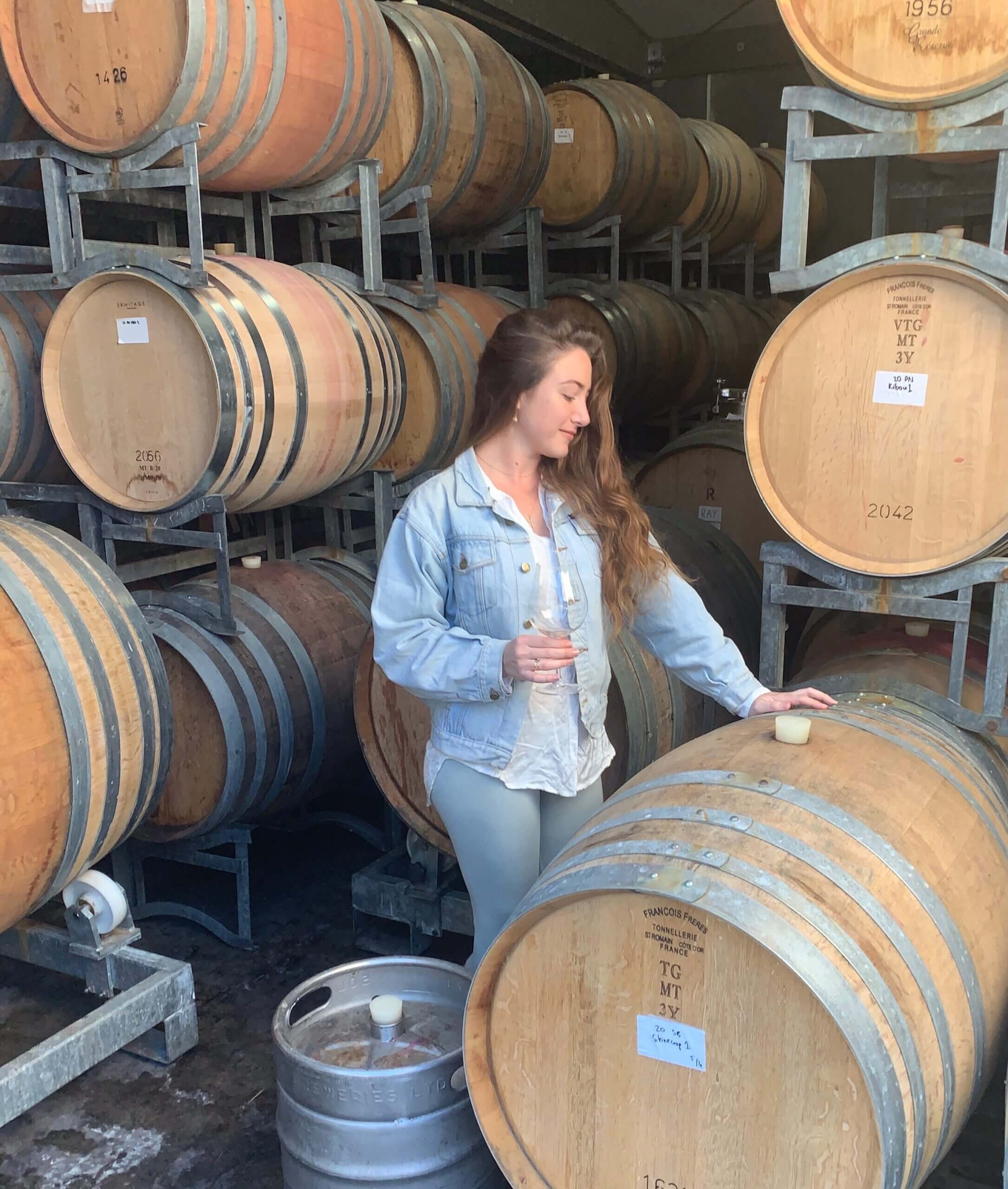 Katarina Jelks is a professionally trained sommelier from Hawaii. She received her Wine & Management Diploma from Le Cordon Bleu in Paris. Her experience working across the wine industry, in locations all around the world (France, Australia, New Zealand, the US & more), has resulted in a global perspective. She loves sharing her passion with others and helping them to chase their thirst for interesting wine and great food.