Depending on your location, Spring, Summer, and/or Autumn can mean it's time to start preparing for some serious wine time with your closest friends. In my mind, winery picnics for adults are equivalent to Disneyland trips for kids. Time gets lost on carefree hours of pure bliss – and sometimes you even meet some funny characters.
Below are some absolutely essential things to take along with you to ensure the most splendid time (and perhaps to inspire some fun pictures).
ChoiceWineries.com is reader-supported. When you buy through the links on our site, we may earn an affiliate commission. Visit our disclaimer page for more information.
Let's Pack!
There are a few non-negotiable items that we think you should strongly consider for any & every winery picnic venture:
Sunscreen, a hat, and sunglasses are all great items to bring while soaking up some sunshine. No matter what time of the year it is, spending time outside will always expose you to UV rays. Proper protection is invaluable and worth it every time!
A blanket is preferable to bringing chairs because it'll be much easier to carry to the perfect spot of your choice. Blankets are also great for spreading out your favorite foods that your whole group can easily reach. Plus, it gives that classic picnic vibe.
Water is probably the most important item to be sure to pack. Although many wineries offer free H2O, carrying some on hand is much more convenient when having a picnic. Less trips to the cellar door equals more time to wine and dine in the fresh air.
A warm jacket or sweatshirt may seem unnecessary depending on the time of year you plan to go. However, this will be handy to have with you even the summer months. Wineries tend to keep their cellar doors at a cooler temperature to preserve the wines, especially if the wine is still in barrels. And no one likes that outdoor chill that can get to your bones as evening approaches. A jacket can zip out of your life in a jiffy.
And How Should I Dress?
Wineries don't really have a "dress code" per se, but smart casual is always a safe way to go. The most important thing is dressing comfortably in something that makes you feel good and natural. After all, you're there to enjoy yourself to the fullest!
Choose your shoes wisely.
Ladies, avoid high heels at all costs. The last thing you want to be doing is treading through the grass as your heels sink with every step. Need more convincing to go for sneakers over stilettos? Many wineries are surrounded by cobblestone paths, which are not exactly ideal for high heels either.
If you are considering wearing white or light colored clothes, beware of grass stains (or wine stains depending on clumsiness).
A sundress is a great example of a smart casual outfit. Just be sure that it's not too short, otherwise you could end up spending a lot of time fidgeting to find a comfortable, yet appropriate way to sit down.
Think Outside the Box…
When packing for a winery picnic, there are some things that don't come as quickly to the mind as others. This is why we're here! Here are some uncommon things to consider taking with you:
Flowers are natural mood boosters, whether it's the way they smell, the way they look, or both. There's nothing that says "wine country picnic" more than a fresh bouquet of beauty. Not only do flowers have a positive impact when it comes to creating the ultimate ambiance, but they also make your photos look that much better.
A small jar of coffee beans may not have been your first thought for what to bring to a winery picnic, but hear us out. This is very useful if you find yourself tasting and comparing different wines (wine geeks unite!). The coffee beans act as an odor neutralizer, so your nose doesn't get overwhelmed with all of the different smells that wines have to offer. This dilemma is often referred to as Olfactory Fatigue. It's easily avoided with the ol' coffee bean trick.
White bread or crackers are also often found at wine tastings, as this helps to keep the palate clean. If you're drinking or tasting different types of wines, it's important that they don't interfere with each other, especially when enjoying whites and reds. (Hey, there are no rules on picnics).
Create Perfect Pairings for Your Picnic
What if I told you that it's possible to enjoy gastronomic delights that pair perfectly with the wines of your choice, without going to a fancy restaurant? And I'm talking more than just wine and cheese here.
Depending on the wines that you will be drinking and clinking with your closest friends, there should always be amazing food that will compliment your choices to the fullest. Here are some pairing suggestions that you'll want to bring to your winery picnic. These spreads will take this experience to the next level of deliciousness:
White Wines
Pinot Gris – Whether you prefer your Pinot Gris in a sweeter or drier style, it is well known for boasting fruity characteristics such as white peach, pear, and lemon. These are notes that you definitely want to accentuate, and Prosciutto e Melone (Melon wrapped in Italian ham) will do this just perfectly.
Sauvignon Blanc – Racy, fresh, and full of life! Sauvignon Blanc definitely has the acidity to cut through rich, creamy foods. Goat cheese is Sauvignon Blanc's soulmate, as it's creamy but has a gentle enough flavor for the Sauvignon Blanc to showcase it's wonderful citrus notes. One of my favorite recipes to pair (and it's travel friendly!) are these Goat Cheese and Honey Bites.
Tip: drizzle the honey just before eating to prevent the puff pastry from getting soggy
Chardonnay – Chardonnays that have been produced with oak tend to have toastier notes. A wonderful accompaniment with bold, smoky flavors are similar flavors:
For example, grilled fish is ideal to pair with an oaky Chardonnay because it can stand up to its strong characteristics, while simultaneously enhancing the wine. Unfortunately, a grill isn't on our packing list when it comes to winery picnics. Try smoked salmon and mascarpone crostini…you'll be glad you did.
Unoaked Chardonnay tends to have a totally different flavor profile. Ripe apple, lemon peel, and pineapple are all commonly found in unoaked Chardonnay. Whether the wine has had oak treatment or not, Chardonnay is known for its high acidity and opulent texture. A curried chicken salad with golden raisins will pair beautifully with an unoaked Chardonnay.
Red Wines
Pinot Noir – One of the most beloved tastes in the winery world, and my personal favorite. Fresh cherries, red currant, and candied cranberries are common flavors found in this soft and silky red. Although the tannins are on the delicate side, the acidity is quite present (which makes it great for aging):
A rich pate or terrine can be overwhelming on the palate when weighed down with a full bodied red wine, but a younger Pinot Noir will brighten and lift the density and sweetness of the pate.
Stuffed mushrooms is a match made in heaven with aged Pinot Noirs, as the wines also tend to display beautiful, earthy characteristics with time. Try my favorite stuffed mushroom recipe from ButterYourBiscuit.com.
Cabernet Sauvignon – When we think of big, heavy bodied red wine, we think of Cabernet Sauvignon. Black basket fruits and jammy notes are very common in a classic Cabernet. The solid tannins make this wine an incredible pairing partner for red meat and sharp cheeses. A great way to enjoy both with your next glass (or bottle) of Cabernet is by making salami and sharp cheddar skewers. They're easily portable as well!
Syrah – Spice, black pepper, and smoked meat are just some of the many characteristics that this incredible wine can carry. Big, juicy tannins and a profound acidity balance each other out, making one stunning wine. Sometimes, less is more when it comes to finding the perfect pairing. Take all of the qualities of the wine and try to think of a similar food. This is why you don't need much more than your favorite peppered beef jerky to enjoy with that glass of greatness…(or should I say grapeness).
Enjoying Wine Outside vs Inside
When you're drinking a wine, you want to be sure that there isn't something surrounding you that is truly affecting the smell of the wine. For example, wearing a heavily scented perfume could alter the way the wine will smell because there is something else that your nose is picking up.
When it comes to indoors vs outdoors, one is not preferable to the other for enjoying wine. Just be aware of surrounding scents.
Wise Words of an Expert…
A very wise sommelier once told me that a wine can taste completely different depending on the company that you're drinking it with. A $5 bottle can taste like the best wine in the world if you are enjoying it with high spirits. So go ahead, raise a glass with your closest friends and seize the moment!
Cheers!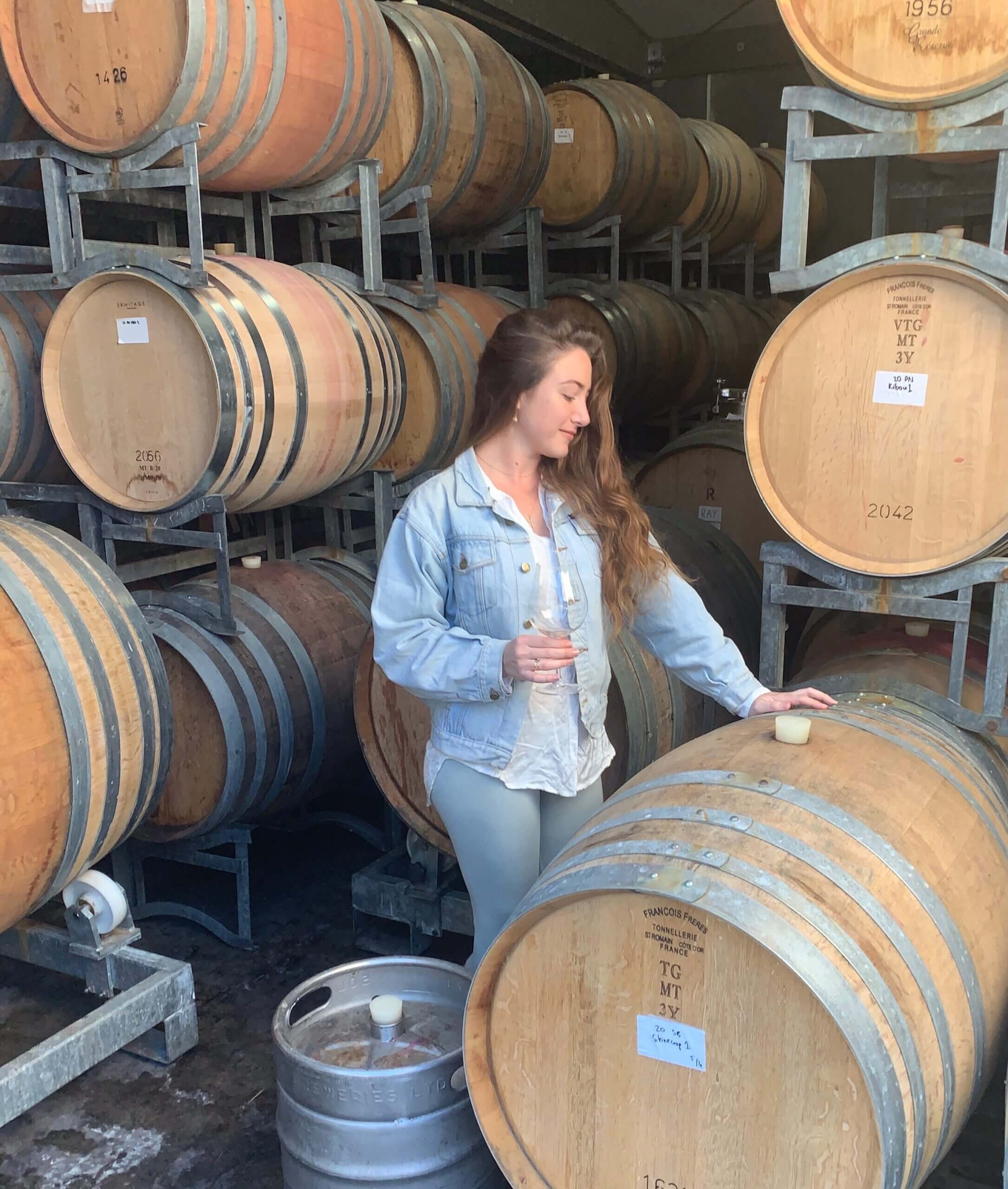 Katarina Jelks is a professionally trained sommelier from Hawaii. She received her Wine & Management Diploma from Le Cordon Bleu in Paris. Her experience working across the wine industry, in locations all around the world (France, Australia, New Zealand, the US & more), has resulted in a global perspective. She loves sharing her passion with others and helping them to chase their thirst for interesting wine and great food.