If there's one thing Italy is most loved for, it's the food. Italians pour their heart and soul into their cuisine. Carefully selected ingredients create one delicious masterpiece after another, and Eggplant Parmesan (Parmigiana Di Melanzine) is an everlasting example of this.
Layers of perfectly fried eggplant, stretchy mozzarella, and Parmesan cheese baked together in a delightful tomato sauce makes this dish an experience of Italian perfection….almost. The picture isn't complete without the right wine pairing for your eggplant parmesan experience.
Perhaps you're craving authentic Eggplant Parmesan (but without leaving home). If so, I have the best recipe for you. Experience something like what you'd find in a small street side Italian eatery with this recipe by InsideTheRusticKitchen!
Why Choosing the Right Wine Pairing is Important
The term "wine and dine" is not just an activity that we do on date night…it's an experience that should be enjoyed to the fullest. Choosing the right wine can elevate your entire meal to the next level, or can completely underwhelm it. This may sound a bit dramatic, but it's true. On the other hand, certain wines paired with certain foods can even leave an unpleasant taste, from bitter to metallic!
Pairing wine with a vegetarian dish can be tricky at times, especially if the wine is red. Many red wines have a bold tannic structure, easily overpowering the delicate flavor and texture of vegetables. Luckily for us, there are not hundreds, but thousands of grape varieties in the world to choose from!
Top White Wines for Eggplant Parmesan
Unoaked Chardonnay has a strong ability to stand up to zingy tomato sauces with it's brilliant acidity. This is also perfect for cutting through rich creamy cheeses such as mozzarella.
Pouilly-Fume is a Sauvignon Blanc made in the Loire Valley of France. Unlike other new world Sauvignon Blancs that have very pronounced citrus and grassy notes, this one tends to be fuller bodied, with hints of grapefruit and flint. The freshness will be sure to coincide with the rich Italian flavors and textures.
Top Red Wines for Eggplant Parmesan
Barbera is misleading when it comes to the intense, dark color. It is known for its lower tannin and high acidity levels. No wonder it's the third most planted grape in Italy! The soft tannins will match the tender textures of the eggplant and cheeses.
Chianti is a classically medium bodied red wine made primarily from Sangiovese grapes. Sun dried tomatoes and herbal notes are commonly detected in this rustic wine. If it's one thing Italians love, it's herbs! Why not have them both in your glass and on your plate?
Gamay is the cousin of the Pinot Noir grape, most commonly known as the Beaujolais grape. Fruity and playful, it has a light tannic structure with a defined acidity. The perfect wine to pair with vegetable courses.
Things to Keep in Mind When it Comes to Food and Wine Pairing
Opposites Attract
There are really only two ways to pair wine and food successfully. The first way is by contrasting, (think of that phrase, "opposites attract"). By doing this, two completely different elements can complement each other beautifully.
Pairing the very salty Roquefort cheese with a very sweet dessert wine such as Sauternes results in a match made in heaven. Both carry extremely opposite flavors, so by pairing them together, this allows them to meet in the middle (and at your taste buds) to perfectly balance each other out.
Wine Pairing by Similarities
The other approach to take is by comparing. This works very well when focusing on textures. A big, peppery Shiraz would rip the oh-so delicate tuna carpaccio to shreds. The bold tannins would easily overpower this dish, making it very difficult to enjoy (or even notice).
On the other hand, if you were to pair tuna carpaccio with a glass of Chablis, which boasts gentle minerality and a soft silky texture, it would uplift the dish very nicely.
What Grows Together, Goes Together
This is a popular phrase among wine and food lovers all over the globe. Before exporting existed, early winemakers would create wines that reflected the food of the area. This doesn't always have to be the case because experimenting with different flavor combinations is half of the fun! (Might I suggest Riesling and Thai food?)
Choose Your Wine Glasses Carefully
Believe it or not, wine glasses can have an astounding effect on how your wine will taste. Just listen to wine glass expert Maximilian Riedel on why shape matters.
If you're still skeptical, try it out for yourself! Pour a wine into three different shaped wine glasses, and pay close attention to how each wine smells and tastes.
Mangiamo! (Let's eat!)
The bottom line is that with the right wine, a simple dish such as Eggplant Parmesan can be transformed into a divine gastronomic experience. Cheers!
Recommended Wine Pairings for Your Next Eggplant Parmesan Dining Experience
Marcel Langoux Pouilly-Fume
Joel Gott Unoaked California Chardonnay
Michele Chiarlo Barbera d'Asti Le Orme
Banfi Chianti Classico Reserva
Jean Loron Jean Gamay Noir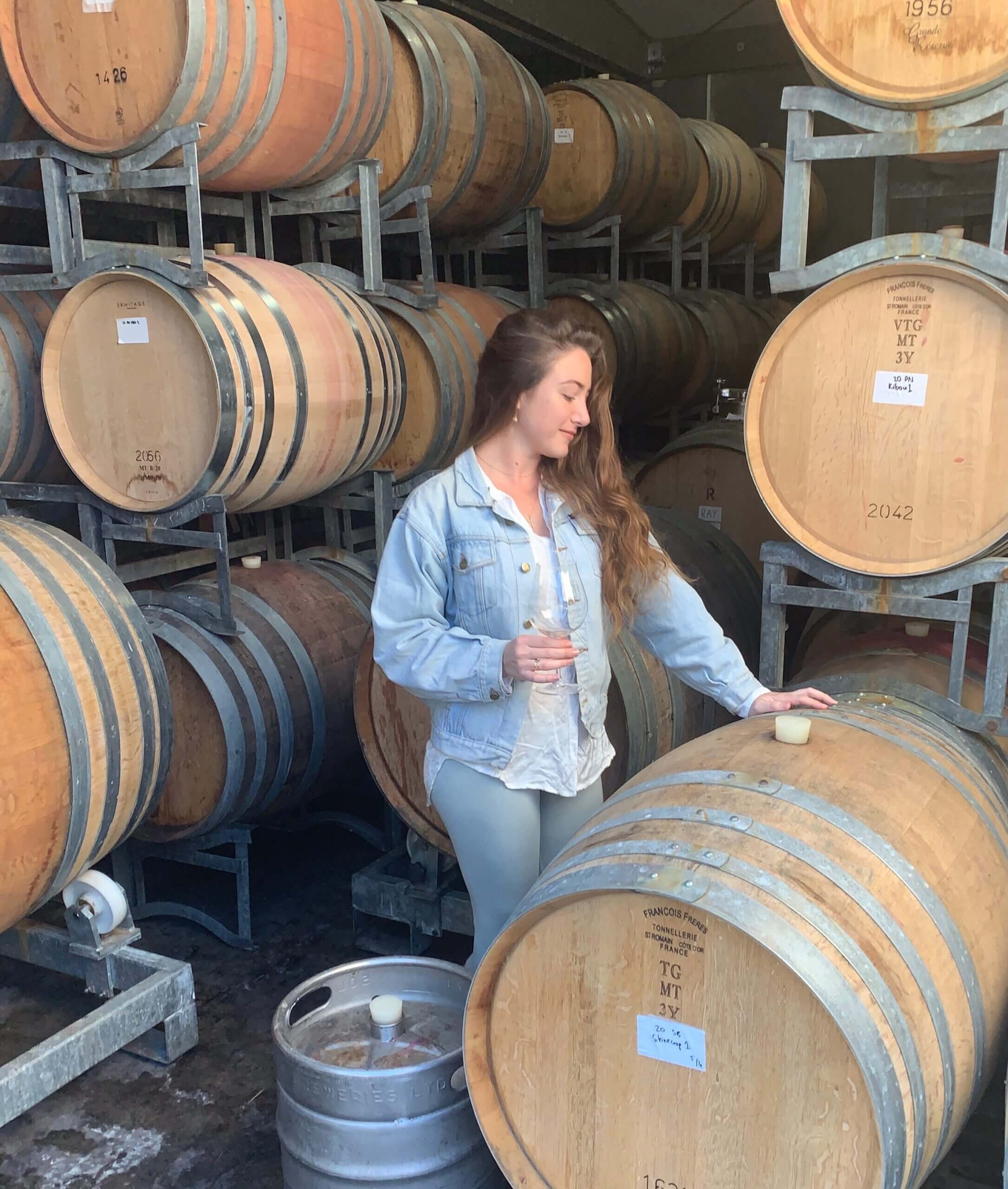 Katarina Jelks is a professionally trained sommelier from Hawaii. She received her Wine & Management Diploma from Le Cordon Bleu in Paris. Her experience working across the wine industry, in locations all around the world (France, Australia, New Zealand, the US & more), has resulted in a global perspective. She loves sharing her passion with others and helping them to chase their thirst for interesting wine and great food.